Encyclopedia of American Silver Manufacturers

Dorothy T. Rainwater, Judy Redfield

With more than 2,400 marks illustrated and brief histories and cross-references of more than 1,600 manufacturers, this is the most comprehensive reference source on the subject. This fourth edition includes many new trademarks, many additional companies, and brings up to date the many changes in company ownership during the last decade. Over 2,200 silver maker's marks.

The Standard Encyclopedia of American Silverplate: Flatware and Hollow Ware: Identification & Value Guide

Frances M. Bones, Lee Roy Fisher

Great reference book for identifying your ornate and antique silver and silverplate flatware.  Many detailed pattern drawings.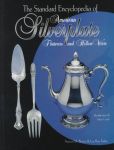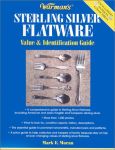 Warman's Sterling Silver Flatware: Value & Identification Guide

Mark F. Moran

Sterling silver flatware continues to be highly collectible, especially as family collections are passed down to each new generation. In this new standard to sterling silver, noted antique expert Mark Moran lists thousands of sets of sterling, complete with identifying photos, and their current prices. He covers pieces from all the major American manufacturers, as well as selected English and European manufacturers in this essential guide to prominent silversmiths, manufacturers, and patterns. He also provides an overview of what to look for, condition reports, history, and descriptions.

Books about Silver, Silver Plate and Sterling Silver

Abe recommends the following fine research books about silver for identifying your antique quadruple silverplate, silver plate, silverplate and sterling silver.  These books can usually be found in your local library or they can be purchased at your local book store.

These books will enhance your knowledge of past and current silver manufacturers and assist you in identifying your silver, silverplate or sterling silver items.

Miller's Silver and Sheffield Plate Marks: Including a Guide to Makers and Styles

John Bly

Nice reference book to ID those hallmarks on your antique silver, silverplate and Sheffield Plate items.  Handy size, too!


Silver: Antiques at a Glance

James MacKay

Collectors of antique silver know even the simplest item can be worth a fortune. Get to know the great silversmiths of the last four centuries, so you can tell the difference between their original work and later copies. Study the photos that show what you'll need to complete a particular collection. Become a specialist in a certain area, from tableware to thimbles. And don't miss the latest trends in silvermaking. The value of your silver will skyrocket.

Silver Holloware for Dining Elegance: Coin Silver and Sterling Silver

Richard F. Osterberg

Spectacular centerpieces, tea services and candelabras are among the gorgeous silver pieces shown in this illustrated book.  These wares were made of coin and sterling silver.  Items range from compotes, pitchers and serving trays, to gravy boats and butter dishes.  All the top manufacturers of the 19th and 20th centuries are represented.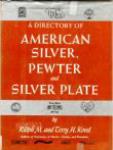 A Directory Of American Silver, Pewter and Silver Plate

Ralph M. & Terry H. Kovel

This is the most comprehensive guide to the subject of silver, pewter and silver plate ever published.  It lists all known makers of American silver, pewter and silver plate who worked prior to 1900.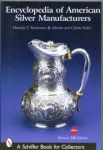 Encyclopedia of American Silver Manufacturers

Dorothy T. Rainwater & Martin & Colette Fuller

The purpose of this book is to record as much historical and quadruple silverplate maker's mark information as possible.  More than 2,000 illustrated maker's marks, brief histories and cross-references of more than 1,400 silver manufacturers.  Upholding the silver  manufacturing tradition will be the responsibility of the next generation.  It is our hope that this encyclopedia will help to encourage them, and continue to serve as a navigational tool.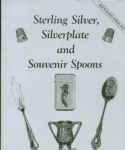 Sterling Silver, Silverplate and Souvenir Spoons

L-W Book Sales

Black and white illustrated book featuring details of sterling silver spoons, souvenir spoons, sterling silver napkin rings, silver cups,  silverplate holloware, tea service sets, castors, boxes, baskets, butter dishes and everything inbetween.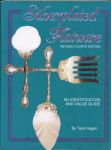 Silverplated Flatware

Tere Hagan

A comprehensive book all about silverplated flatware.  Chapters include Updated Silverplate Flatware - 1990, 19th Century Patterns, Manufacturers and Patterns, Unidentified Patterns, Additional Patterns, Catalogue Reprints, Index of Patterns, Index of Marks and Index of Manufacturers.  A must-have for identifying antique silver flatware.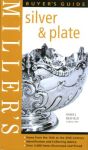 Miller's Silver & Plate

Daniel Bexfield

Color and black and white photographs, organized by type.  From baskets, caddy spoons, cutlery, corckscrews and cruets, to miniatures, mirrors, scent bottles and vinaigrettes.  Manufacturers from Scotland, Ireleand, the United States and Russia are also covered.  Special features on key silversmiths, from Paul de Lamerie and the Batemans, to Paul Storr, Tiffany and Georg Jensen.  Old Sheffield and Silver Plate, including Electroplate are also covered.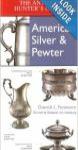 American Silver & Pewter

Donald L. Fenimore

From simple Colonial pewter candlesticks to elegant silver Victorian serving dishes, silver and pewter objects have long been valued and treasured as family heirlooms and highly popular collectibles.  More than 450 objects photographed and categorized specifically for the collector.  Each piece is accompanied by an extensive caption describing the piece's attribues, the year of manufacture, the maker, and hints for collectors such as the scarcity of the piece, its condition, and points to check before buying.  An invaluable guidebook.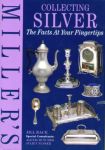 Miller's Collecting Silver

Jill Bace

If you're attracted to the wide range of beautiful silver available, and want to learn more about such eminent manufacturers and designers as Paul Storr, Elkington & Co., Tiffany & Co., and Georg Jensen, understand how silver is decorated and hallmarked, and gain insight into the differences between sterling silver, Britannia standard and Sheffield Plate, then this is the book for you.  Color photos!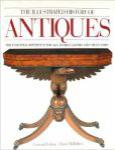 Illustrated History of Antiques

Huon Mallalieu

A comprehensive section on Silver, Gold and Jewels; including British Silver, European Silver and American Silver.  Additional information on silver during the Arts & Crafts movement through the Art Nouveau period.  Coins are also discussed and illustrated.  Comprehensive in scope and organized for easy reference.  This book represents the finest examples in each category of antiques, supplemented by the historical and stylistic context for each item.  An essential reference for dedicated collectors!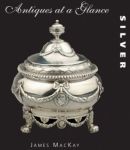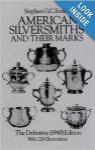 American Silversmiths and Their Marks

Stephen G.C. Ensko

Scholarly directory of over 3000 early American silversmiths, 1650-1850, and their identifying marks. Perfect reference work for collectors. Biographical detail, shop locations given, plus 226 examples of silversmith's art in photographs..